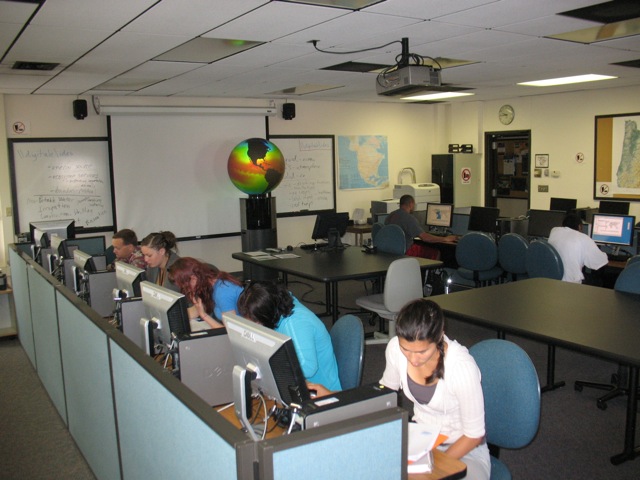 Digital Earth is a teaching facility primarily for GIS, remote sensing, cartography, numerical analysis, and scientific visualization. The classroom is a facility of the OSU Department of Geosciences and is supported by the OSU Media Services. The manager of the facility is Mark Meyers
The lab was originally funded by a NASA infrastructure grant to Sherm Bloomer (professor & Dean, College of Science) and Nick Pisias (professor & former associate dean of COAS). The grant provided $500,000 (matched with $82,000 from OSU) to build the classroom, as well as the Oregon Earth Watch Facility in Burt 178A (overseen by co-PI James Coakley), and the GIS Student Research Laboratory in Burt 178B.
Digital Earth is located in 210 Wilkinson Hall and is one of the most advanced teaching facilities on the Oregon State campus. We have been operational since the beginning of Spring term, 1999.
---
[ home | purpose | facilities | teaching | policies | tips | links ]
---
Last update: July 26, 2011
http://dusk.geo.orst.edu/de/de_constr.html
&copy 1998-present The Web Goddess