UCSB Cycling Alumni Pics
From: dawn@dusk.geo.orst.edu
Subject: a UCSB cycling alum
Date: August 21, 2005 5:19:44 PM PDT
To: knielsen@umail.ucsb.edu

Hi Karl,

I was just surfing around the web recently and went to the cool UCSB Cycling site and noticed your alumni page and your request for pics and such. I rode with the team in '92 and '93 and was on the squad that went to nationals in '93 (near Boston). The men's team was awesome, as you know, with the TTT gold medal but we had both men and women that year scoring points so that the team as a whole got a bronze medal (full recap).

Below is a picture of 3 of us on the women's TTT. We only had 4 riders instead of the maximum 5, yet still scored points for the team by taking 11th overall.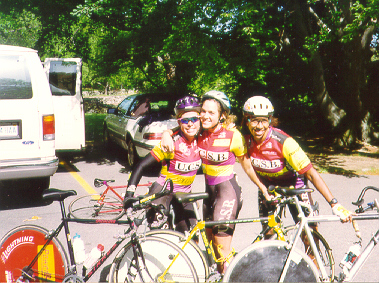 That's Meredith on the far left, and Michelle in the middle, who also scored top 20 in the crit as I recall. I can't remember last names. I'm the one on the right.

Here's a picture of me in training, heading down the Goleta Beach path from campus (on "Inga" the wonder bike):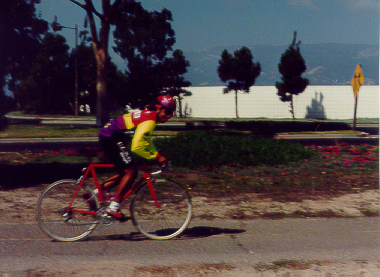 I still ride but no more racing - my site is http://dusk.geo.orst.edu , where I link to UCSB Cycling on my cycling page.

And now for the really cool stuff.

Below are a couple of pictures of the mens TTT squad getting their medals at the 1993 Collegiate Nationals in Boston: from left, Adam Laurent, Dylan Casey, and unfortunately can't remember the name of the other teammate pictured (he was a super nice guy). You'll notice just to the right of them is Tyler Hamilton, who scored gold in men's omnium that year as a rider for CU-Boulder. I should have gotten his autograph *then*. :-) I think another member of the men's TTT was Mike Baldwin but can't remember why he wasn't up there on the podium.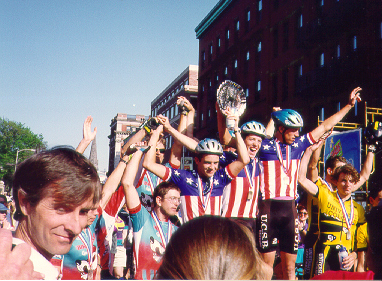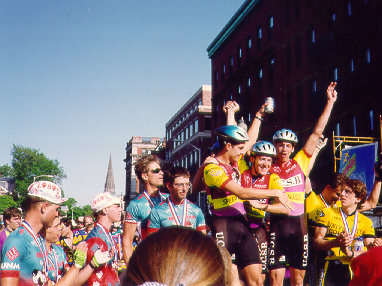 Dylan Casey in downtown Boston holding court with a statue.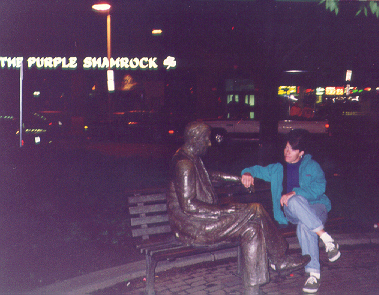 Adam Laurent with Michele and our terrific team manager who rode Men's B, but, unfortunately I can't remember his name either!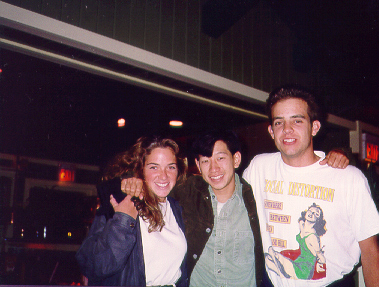 Have a great season this coming year! Do let me know how I can be of help. I still ride in my UCSB jerseys and would love to help the team in some way. I live in Oregon (a professor at Oregon State and a former faculty advisor for the cycling team here when I first arrived), but would be happy to send some bucks down. By a complete coincidence, I just got an email out of the blue from Dan Nguyenphuc, danno@thevine.net, who was another terrific rider and supporter of the team at the time. He says he's still in SB and getting back into cycling after a layoff of 10 years.

Take care and GO GAUCHOS!!!

Dawn Wright (class of '94, for a grad degree)

http://dusk.geo.orst.edu



P.S. you asked for a short story and a couple are attached below:

--------------------
STORY 1
[Background was that my original bike (a hand-me-down Cannondale) had been stolen on campus Jan. 4th during an overnight break-in to our lab, and used as a getaway vehicle by the thieves, who were hitting various labs for computer parts all over campus. The police actually found it around 6 years later, as revealed in an article in the Independent about the larger caper of computer thievery up and down the west coast].

January 30, 1994


Once upon a time there was a candy-apple red, Italian, custom-made frame (a 56 cm Serotta) that hung on the wall in the mechanics' section of Hazard's Bike Shop (our team sponsor). According the guys in the shop, the frame used to belong to Inga Thompson, the super gnarly cyclist living legend who went to the Olympics in '88 and '92. The frame was custom made for her while she was on the U.S. National Team. As the guys in the shop told the story, she didn't need the frame so she gave it to US Olympian, National Champion, and 2-time Tour de France stage winner Davis Phinney. [Davis Phinney shared with me over Twitter on 8/10/17 after seeing my post that this is in fact an urban legend!]. :-) At any rate, somehow the frame ended up at Hazard's where it had been sitting on the wall, lonely, ever since; that is, until the day that sad little Dawn walked into the store to tell the manager that she wouldn't be able to come up with the 1000 big ones for a new team bike. The kind manager showed her Inga's frame (which was exactly her size!) and said that he would build it up from scratch for $600!!!! Whoa - where else could Dawn get a deal like that, AND with a story behind it like that? So Dawn gave him all the leftover parts that she had to contribute to the cause (tubes, tires, bottle cages, and new pedals donated to her by her loving teammates), and as soon as she can come up with 400 more big ones the bike would be all hers (with Mickey Mouse handlebar tape included)!

The End (sort of)
3 months later about 20 friends or so chipped in the money to complete the payments on the bike at Hazards, and surprised me with it on campus (Girvetz Hall). ...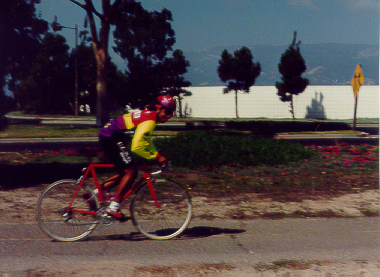 In the meantime, Story 2 happened ...
--------------------
STORY 2 - not connected to the team but a good one anyway (I couldn't race after this happened) ...
From dawn Tue Feb 15 22:37:21 1994
To: chsmith@cc.colorado.edu
Subject: true confessions
Cc: dawn

Greetings C16,


How goes it kiddo? Hope you are holding forth with your teaching and all-around star faculty member responsibilities! I guess by now you've heard of my attempt to fly off Little Pine Mountain without propellers so I thought I would drop you a line and come clean on the situation.

Chuck Anderson and Grant Lindley (my mtn. bike comrades for the weekend) say that I get the award for the most spectacular crash in history - a dubious, if not infamous distinction indeed. We made it to the top of Little Pine by jeep road and the guys had decided to go down on the narrow single-track. Wow - that trail was gnarly. I had never ridden anything like it before: extremely narrow (1 foot wide) with a pretty steep (~70 deg.) drop-off on the edge, kind of like:

                \
                 \
                  \* <---- back view of biker
                   ~~ <--- trail
                     |
                     |
                     \
                      \
                       \


Not much margin for error there. No sooner had I been thinking that the trail was bad news when I hit a rock and was getting alternating views of the sky and the ground at top speed! Took a 100 ft. tumble and bonked out unconcious for a little while. Grant, Chuck, and 4 other guys who happened along climbed down there and wedged me into the hillside so that I wouldn't slip any further (such heroes!). They also kept talking to me and cracking jokes to help me through the nausea of the concussion and keep me from slipping away into la-la land. My friend Peter was also biking on the trail and skedaddled down as fast as he could to get the Forest Service (he was such a stud for not crashing himself given the intensity of the situation). About 2 hours later I guess, a human chain of about 15 folks transported me in a stretcher up the steep slope to the trail, and then they carried me to a place where the helicopter was able to land and it was off to Goleta Valley hospital. After all that, the worse that really happened to me was the concussion, mega neck spasms, and various shades and shapes of bruises and abrasions on my face and legs (because I was wearing my NEW long-sleeve UCSB jersey I only got ONE boo- boo on my arms!). I kind of look like Frankenstein's daughter but I've got truckloads of things to be thankful for. For instance, I'm still here, the helicopter ride was cool, people have been really nice to me, I'm getting lots of Valentine's candy and free pizza - life is good. :-)

I'm a naughty pumpkin 'cause I'm supposed to be taking aspirin and hopping into bed right now, so I'd better go.

Return to Dawn's Cycling Page